Argentina - Single-layer Blown Film Extrusion Machine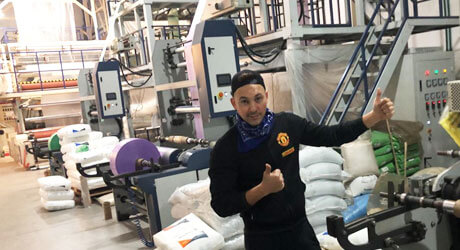 In February 2018, An Argentina customer bought three SD-50 single-layer 600mm HDPE blown film machines.
The customer is a medium-scale blown film factory in Buenos Aires, Argentina established in 1990 and enjoys a long history. It owns more than 30 blown film machines, bag-making machines, printing machines, and other equipment. It is engaged in the production of various types of PE films, mainly for industrial, agricultural, medical, and construction purposes.
In October 2017, the company purchased three SD-50 single-layer 600mm HDPE blown film machines from our company, with an output of up to 55kg/h. The machines were used to produce supermarket vest bags, flat bags, garbage bags, medical packaging bags, etc. . These three blown film machines are equipped with rotating die heads, automatic winding, and other functions. The rotating die head solves the problems of film bursts and uneven head sizes, thus ensuring the flatness of film winding. After the machines were installed in the customer's factory, the customer said the automatic winding and the machine-wide control with a touch screen are very practical and easy to use. The machines spare the customer from the complicated manual film cutting and unloading that involve high local labor costs in Argentina, thus being greatly appreciated by the customer and its workers.
Related Video
High-speed Single-layer 1200-mm Film Blowing Machine: GSD-65-1400 Series Testing