Advantages of Multi-Layer Co-Extrusion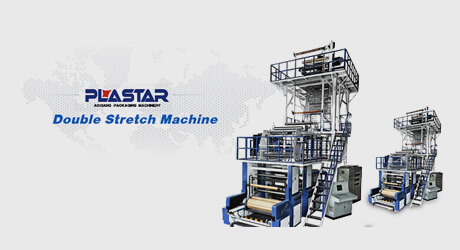 In order to meet customers' special requirements for the production process and co-extrude multi-functional plastic films that combine the properties of various materials (such as breathability, waterproofness, insulation, toughness, etc.), we have developed the multi-layer co-extrusion plastic blown film machine after years of research and practical development. Its purpose is to give play to the advantages of different materials and avoid the shortcomings of a single material or a single-layer blown film machine. PLASTAR is committed to providing customers with market-competitive blown film machines.
The PP/PE multi-layer co-extrusion blown film machine is a film that combines the high hardness of PP material and the brightness of PE. Multi-layer co-extrusion blown film machines can be divided into two-layer co-extrusion blown film machines, three-layer co-extrusion blown film machines, five-layer co-extrusion blown film machines, seven-layer co-extrusion blown film machines, etc.
The three-layer co-extrusion blown film machine adopts a new extrusion production line with high efficiency and low consumption, a built-in IBC film cooling system, a 360-degree horizontal rotating traction system, and a photoelectric automatic correction device, an automatic lap changing system and film tension control system, an advanced PLC screen, an automatic control system, and other technologies. Compared with similar products, it features the advantages of high output, fine plasticizing effect, low consumption, and simple operation. It completely solves the winding size problem and further improves quality. The film produced is characterized by high transparency, durability, toughness, low-temperature thermal cutting, high composite fastness, and sound curl resistance. Also, it features sound barrier properties, freshness retention, moisture resistance, freeze resistance, oxygen resistance, and oil resistance. It can be widely used for the light and heavy packaging of fresh fruits, meat, pickles, fresh milk, liquid beverages, and medical supplies.
The five-layer co-extrusion blown film machine is mainly used for HDPE, LDPE, LLDPE, EVA, and other gas-isolated functional materials. It is generally used for packaging films such as heavy packaging, high-end food bags, vacuum bags, liquid packaging bags, and other packaging bags that require freshness retention, airtightness, and extended shelf life. Your demand is our fundamental driver and your satisfaction is our greatest challenge.