Vietnam - Five-layer Co-extrusion Blown Film Machine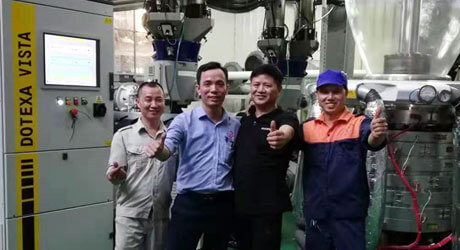 In October 2019, a Vietnamese customer successfully installed the 1600mm ABCDE five-layer co-extrusion blown film machine.
The customer is a large-scale comprehensive blown film bag and packaging company in Vietnam, with a history of more than 30 years. It had purchased two high-speed blown film machines from us. The second cooperation happened in July 2019, when the customer purchased the ABCDE five-layer co-extrusion POD non-barrier 1600mm blown film machine.
The machine is equipped with an Italian Doteco automatic air ring thickness measurement system and the four-component feeding system, which brings great convenience for customers to control film thickness uniformity and automatic mixing while achieving an output of up to 420kg/h. The POD non-barrier five-layer co-extrusion machine has outstanding advantages compared with general single-layer and three-layer co-extrusion machines. As it co-extrudes five layers, it can not only produce some special functional films that are impossible for single-layer and three-layer machines but also the five-layer co-extrusion technology greatly improves the economic efficiency and film characteristics of the products. The five-layer co-extrusion can make the films thinner, or relieve the dependence on high-caliber raw materials, therefore significantly reducing the cost of raw materials. Also, it enables the production of films with equivalent or even better characteristics, such as heat sealing performance, optical performance, puncture resistance, etc.
Related Video
2019 CHINAPLAS & 5-layer 1800-mm Blown Film Extrusion Machine (Vietnam)